At Green Wave Family Wellness Center, our goal is to improve every facet of your well-being so that you and your family can enjoy healthy, happy lives. We are not your ordinary chiropractor's office – we take the time to understand all that is happening in your life so that we can recommend the best and most effective approach to help you improve your health.
Our professional team utilizes the most advanced techniques in order to enhance your lifestyle and help you walk out of our office feeling happier and healthier. We offer many services, including:
Chiropractic Care
Spinal Decompression Therapy
Individual, Marriage and Family Therapy
Weight Loss Assistance, and
Nutritional Health Care
Learn more about our services and how we take the time to help you live the healthiest, fullest life possible.
Co-founders of Green Wave Family Wellness Center:
Chuck Cluxton, Ph.D., L.M.F.T., L.M.H.C., N.C.C.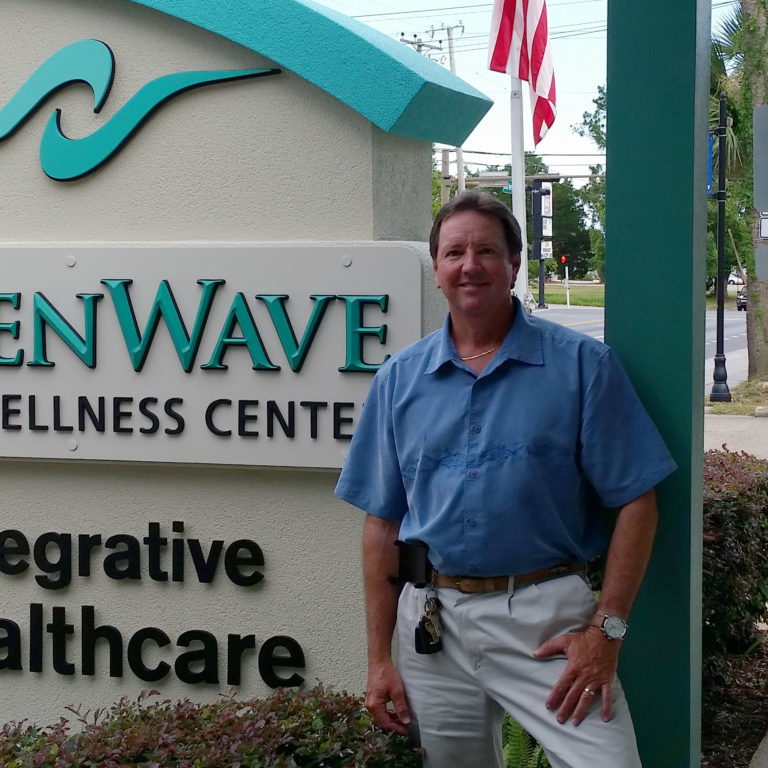 Dr. Chuck Cluxton is a co-founder of Green Wave Family Wellness Center. He is a native of Panama City, Florida. He received both his Ph.D. in Marriage and Family Counseling and his dual Masters/Specialist degrees in Mental Health Counseling and Marriage and Family Counseling from the University of Florida.
Licensed by the State of Florida as a Marriage and Family Therapist (#MT-16780) and a Mental Health Counselor (# 6603) and is a National Certified Counselor (#55653).
Completed the state of Florida's requirements of 50 plus hours training in Hypnotherapy and is a Certified Rapid Resolution Therapy Practitioner having completed IRRT's highest advanced level III training.
Clinical Member of the American Association for Marriage & Family Therapy (# 87642)
Clinical Member of the American Counseling Association and a Certified Ropes Course Instructor.
Dr. Chuck has been providing counseling services in the Individual, Group, Marriage & Family format for over 20+ years. He has specialized training in dealing with Anxieties and Trauma including diagnosis of Panic Attacks and PTSD. While he has worked with clients across the age span, he has further extensive training working with troubled youth and families in crisis.   His other areas of service have included adjunct professor and/or clinical supervisor in Psychology and Counseling (University of Florida, Berry College, Troy University), State of Florida clinical supervisor for therapists in training, Life Coach and counselor for the court and school systems.
Tali Cluxton, D.C., B.S.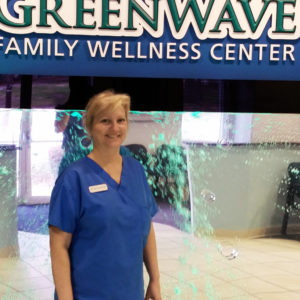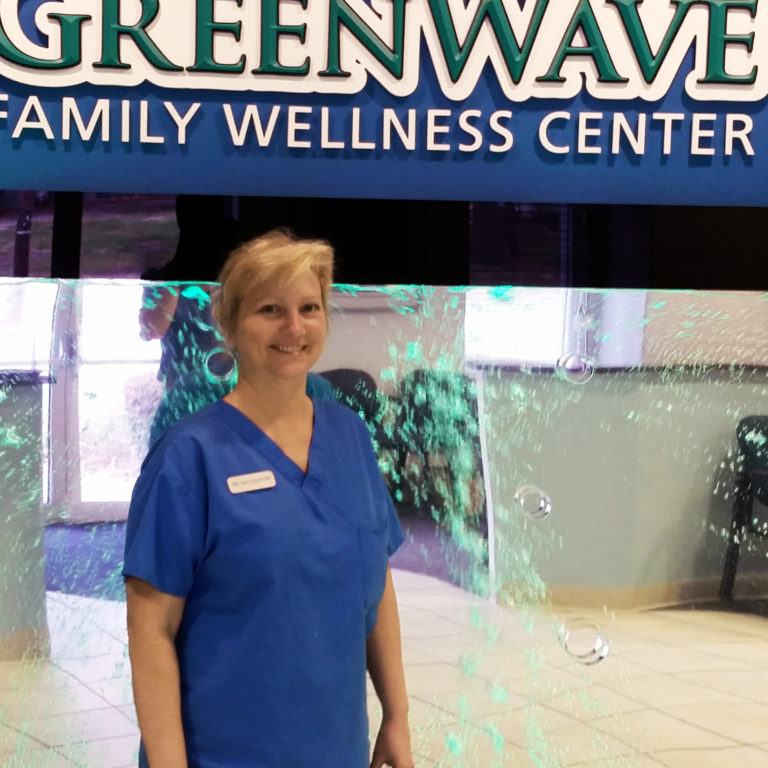 Dr. Tali is also the co-founder of Green Wave Family Wellness Center. She is a native Floridian and a graduate of Life University College of Chiropractic in Atlanta, The Gainesville School of Massage, and the University of Florida.
Has advanced training in nutrition, natural weight loss, the Biomeridian scanning device, the Blue laser, and multiple types of advanced chiropractic adjustment instruments and techniques.
Worked at Shands Hospital in Gainesville, Florida
Received advanced sports massage training
Is a Certified Posture Exercise Professional (C.P.E.P.)
Has practiced as a licensed massage therapist and licensed chiropractor in the states of Georgia and now in Florida (CH 8571).
Dr. Tali has presented workshops in the healing arts in many types of forums including colleges and private institutes. She is also committed to continuing education. She regularly attends seminars on neuromuscular adjustment techniques, soft tissue manipulation, nutrition, natural detox and weight loss, and healing with advanced technologies.
New Counselors within Green Wave:
Joseph "Ben" Price, MS, LMHC
Licensed mental health counselor in the State of Florida (#MH18829). Ben received his Master's Degree in Counseling and Psychology from Troy University, Bachelor's Degree from Ashford University, and Associate's Degree in Instructor of Military Science and Technology from The Community College of the Air Force. As a therapist, Ben has worked with a variety of client populations across the lifespan. He has extensive experience assisting those struggling with a wide range of issues to include substance use, depression, anxiety, chronic stress, trauma and more.
Ben specializes in the treatment of substance use, mood problems, and trauma.
This has included correctional substance use treatment, inpatient behavioral health (active-duty military), and most recently outpatient behavioral health with a focus on substance use and co-occurring disorders.
Treatment modalities are: Cognitive Behavioral Therapy, Dialectical Behavioral Therapy skills, and the integrated SMART Recovery model for addiction and compulsive behaviors.
Ben has completed Basic Accelerated Resolution Training to enhance trauma-related care.
Ben's therapeutic approach focuses on the relationship between thoughts/feelings/actions. He emphasizes the need to address all three aspects, at his clients' own speed. As an Air Force Veteran, and father, he understands the affect that chronic stress, sudden or unexpected Life changes, and self-doubt can have on individuals and families. Ben works to provide real world, practical assistance that can empower his clients to heal and thrive.
Lisa Herring, MS, LMHC
Licensed Mental Health Counselor in the State of Florida (MH #16403). She received her Master's Degree in Psychology and Counseling from Troy University and her Bachelor's Degree from Florida State University. Lisa has specialized training in Grief, forms of using play with children in therapy and a certification as an Adoption Competent Therapist. Focused areas working with all age groups and within the family unit include grief, adoption, anxiety, depression and ADHD.
Counselor at Covenant Hospice.
Founder and counselor of the local nonprofit Angel House Bereavement Center working with grief and trauma across all age groups.
Bay District Schools counseling helping kids navigate behavioral issues to complex emotional and family traumas.
Community mental health provider in the clinic and in the home settings. Focused experience with home bound older adults with schizophrenia, to those with self-harming behaviors, eating disorders, and kids with ADHD struggles.
Following Hurricane Michael, she helped develop and provide counseling services to families at risk of court removal of children, to aid the process of reunification and to assist counseling and consultation for cases involving the Department of Children and Family Services.
As a therapist, Lisa believes that from time-to-time life can feel overwhelming and that when something traumatic happens we can find ourselves in need of additional trained help to cope. She approaches every client from a non-judgmental and empathetic view while helping them return to being their best self. It is her goal as a professional counselor to be that person who can walk alongside you on your journey to healing.
Jennice Harrison, Ph.D., LMFT
Licensed Marriage and Family Therapist in the State of Florida (MT2943). She received her Master's Degree in Marriage and Family Therapy from Mercer School of Medicine in 1997 and her PH.D in Marriage and Family Therapy from Northcentral University in 2020. Dr. Harrison has enjoyed a distinguished career serving in the roles of:
Opened and Supervised Family Resource Centers and Mental Health Clinics, both serving the civilian and military populations.
Harrison's treatment focuses include Individuals, Families, and Dually Diagnosed populations. Specialized training in TF-CBT, DBT, CPT, and EMDR, and is certified in Level 1 Gottman Couples Communication Techniques.
Therapist for Veterans, Active-Duty Military and their families.
Dr. Harrison is a Professional therapist skilled in providing strengths-based, solution focused counseling to Mental Health, Addictions and Dually Diagnosed populations in a variety of settings, including in-home, residential and community based. It is Dr. Harrison's view that rather than looking at areas of weakness, life struggles are best addressed by generating strength on an individual, as well as, relational level. The key to helping others grow towards healthy wellbeing is to facilitate a better language about what unique solutions can look like. Dr. Harrison works with children and adults.
Further Core Team Consultants and Staff:
Kimberly Moskowitz, M.D.
Tara Griffin, D.M.D., A.B.D.S.M.
Charlie Broome Jr. Ph. D., L.M.F.T.
Gloria S. Tipton, Ed.D., L.C.S.W.
Meleah Smith, MS, LMHC
Professor Dan Hudson, M. Div., M.S
Massage and Front Desk Staff
Contact our office today to learn more about our services and how we can help you achieve wellness and balance throughout your life.