How Green Wave Helps You Live a Happier, Healthier Life
At Green Wave Family Wellness Center, we take a comprehensive approach to helping individuals reach their goals in life. We want our patients to have a healthy, balanced approach to wellness for their entire lives. We believe that true success is measured by the level of joy and happiness felt throughout your life. All levels of your life ripple in "Waves" to affect the other and we believe that balance is the best foundation of life. Through balance, you are better able to reach your full potential. Goal: Better Balanced Health and Wellness Across Your Life. This is the art of establishing and maintaining your best alignment in the three primary areas of your life: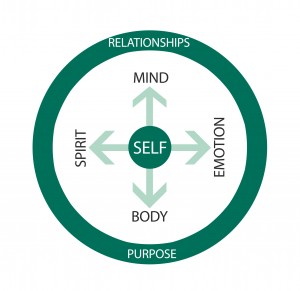 Self (mental, emotional, physical, and spiritual)
Relationships (social aspects of being)
Purpose (Your Intention, or "Why" in life)
We are a team of professionals who coordinate our services to best facilitate your balanced health and wellness. We know that every patient is unique and every treatment will be tailored for your specific situation. We take the time to fully analyze and investigate what your stressors are and how we can help improve your overall well-being.
Our focus: Least Invasive Methods First
Though both invasive and non-invasive approaches may be needed at times in a healthcare treatment plan, we believe starting with the least invasive approach first is best if possible. Most traditional medical approaches focus more on "invasive methods" which adjust your system or physical conditions even through surgical procedures. At Green Wave, we carefully assess the needs and apply our holistic approach to healthcare. This means to treat and empower the use of as many points of leverage in one's system of balance as we can to help stabilize and lower the initial and long-term need for undue medication or invasive methods. We believe this is the best approach to healthcare in your journey towards attaining and maintaining balanced health and wellness.
The Green Wave Process
Our unique approach emphasizes our four-point Health and Recovery Diamond and our Green Wave Balance Model in order to track our patient's progress and ensure we are continually working towards meeting your goals. Our four-point "Health and Recovery Diamond" works to develop a coordinated design for your specific goals, and we strongly believe it is more effective in the long run than any one dimensional approach alone.
The Green Wave Health and Recovery Diamond
Our Green Wave treatment philosophy is used to holistically address systemic concerns of well-being (e.g. weight loss, neuropathy, etc.). By intervening or addressing concerns through the four points of Lifestyle, Nutrition, Cleanse, and System Stimulators, we can best assist you to reach optimum functioning, health and recovery.
Lifestyle: We often need assistance recognizing the ways we have developed patterns that hinder our goals as well as those that can assist recovery of specific issues. We shape our habits, and in turn our habits can shape us. Through counseling, coaching, or education, we help you better develop a lifestyle that supports balanced health and wellness.
Nutrition:  We provide nutritional insights for your specific condition or goals. This often begins with a bio-meridian scan, which is an evaluation of your current health status and helps establish nutritional needs. We offer tailored meal plans, high-end meal replacements, and specialized high grade supplementation to facilitate the level of health and recovery desired. While in some cases to reach stabilization, medication maybe be used, the goal is to reach minimization or elimination of medication through support of wellness services.
Cleanse: This is to rid your body of toxins or impurities that damage your health – whether in your body, relationships, or purpose – as well as in your environment. You can receive nutritional cleanse technology, coaching, and have access to equipment that can help change your environment and release your recovery and health potential.
System Stimulator: These are interventions that activate or alter a system to best create healthy movement, repair, or enhance functioning. Depending on your condition, we often work in conjunction with your primary care doctor.
What can I do to improve or maintain optimal health?
Join the "Wave" of Good Health! Green Wave Family Wellness Center focuses on helping you reach and maintain better balanced health and wellness and ultimately about developing a lifestyle that best produces joy and happiness.
Schedule your appointment with our chiropractors today, or call 850-215-5657 and take the first step toward a more balanced life today!